Norman Brunswig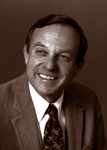 Norman retired in October of 2014 after a 41-year career with the National Audubon Society, during which he functioned continuously as the manager of the Francis Beidler Forest Sanctuary in Four Hole's Swamp. Under his leadership the Forest grew from 3,400 to over 17,000 acres.  While simultaneously various conservation partners worked to place an additional 8,000 acres under conservation easement. 
During his long career Norman also held several regional and national sanctuary department administrative positions. From 1996 until he retired, Norman functioned as Audubon South Carolina Executive Director and National Audubon Society Vice President. 
Norman served on the Edisto Basin Project Task Force and was the chairman of the Natural Areas and Sensitive Species Expert Committee for the Edisto Basin Project. He is a Friends of the Edisto charter member and currently serves as president of its board of directors. 
Norman served on the board of directors of the Natural Areas Association. 
Protecting the Edisto River and its watershed, of which Four Holes Swamp is a part, continues to be Norman's passion. 
Norman received his Bachelor of Science degree in wildlife management from Auburn University in 1968 and his Master of Science in Forestry and Wildlife Management from the University of Georgia in 1973.